40 Below Joe: Clever Coffee Creations
Main Content
40 Below Joe: Clever Coffee Creations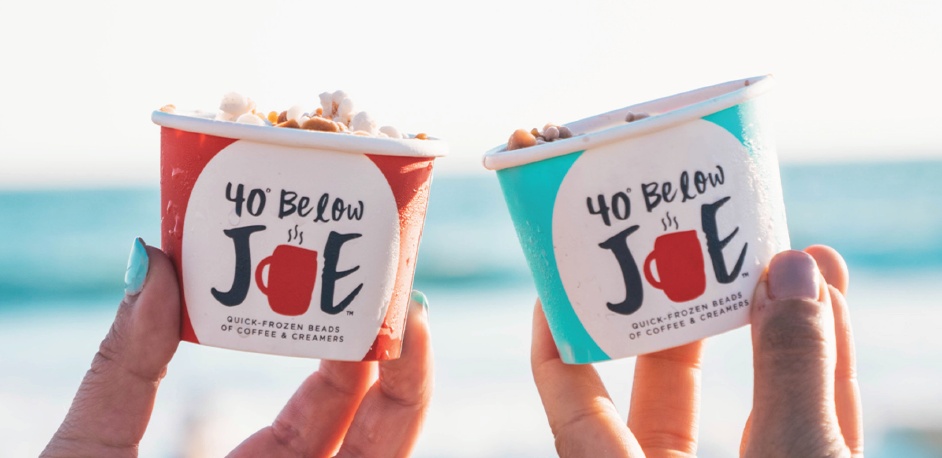 Entrepreneurial spirit and microbiology are at the heart of 40 Below Joe. The local owner has an edible beaded coffee that is not only innovative and fun, but also full of flavor.
Curt Jones, owner and founder of 40 Below Joe, shared his distinct experiences and how it all got started. Jones graduated from Century High School and attended Shawnee Community College and Southern Illinois University Carbondale where he explored fermentation.
As the founder and former CEO of Dippin' Dots, Jones knows what it is like to build a company from the ground up. His experience in the food industry combined with his passion for 40 Below Joe has made this a popular treat around the world. "I started playing with liquid nitrogen
which is very cold, 320 degrees below zero and freezes things almost instantly. I wanted a small ice crystal formation, and a month or two later I was just making ice cream and got that idea, by using the small ice crystals you could make it smooth and creamy with nitrogen," said Jones.
Jones' ability to think outside of the box and offer this new option in the coffee industry makes his product exciting for coffee drinkers of all ages. This new coffee bead is attracting nurses with long shifts, teachers with tons of papers to grade, college students with endless projects, and many others from each age group.
"I got to thinking, what if we just freeze some creamer beads and mix it with some coffee beads and let people eat it? Anyone can drink coffee, but not just anyone can eat coffee, or make it the way we are making it," said Jones.
Coffee beads are new and different. It's a very clever way of delivering coffee to those that want their coffee fix in an exciting form and yearn for caffeine to get them through the day.
Jones said, "People are hooked on it. Cold coffees, hot coffees. This just gives them one more choice. We're giving customers a way to consume coffee differently. Here we are at 40 Below Joe, giving an even colder treat, like on a hot day."
Innovation has helped Jones create a product that has people flocking to it. He continues to work on the expansion of 40 Below Joe so that even more consumers can enjoy this coffee delicacy.
"They are all throughout the United States. We decided from the very beginning to be a national company. We want people all over the United States to be able to get it," said Jones.
From national and regional theme and water parks to museums, hospitals, festivals, and grocery stores, there is probably a place where you can pick up 40 Below Joe treats.
His success hasn't always come easy because being in business is a lot of hard work. Jones has had his share of highs and lows throughout his different ventures.
Jones said, "You have all the developmental issues when you're making a new product like getting all the concentrations right, do I use almond milk or do I use coconut milk, then the branding, do I like these colors, do I like this name, so you have all those things to go through. The real successful people that stay in business a long time are the ones that can get up when they are knocked down."
40 Below Joe is currently located in the SIU Research Park where there are many opportunities that connect business leaders, community members, professors, and students. These partnerships contribute to the success of innovative products and services like the coffee beads from 40 Below Joe.
From financing, business space, packaging and planning, the SBDC helps 40 Below Joe and businesses like it elevate their products and services.
"The SBDC helps with connections, finding students to assist with projects, providing internships for students, and suggesting students to hire when they graduate," said Jones.
Through community growth, partnerships, student engagement, and innovation, it is evident that Jones is always looking to the future with his business.
With so much success behind him and ahead of him, Jones is certain to continue to develop products that customers love.
He is the type of person that never stops innovating and creating. If you look up entrepreneur in the dictionary, you quite possibly will see a picture of him.
As Jones explained, "It doesn't matter what happened up to this point, it's really where are we at today and what are we doing today and tomorrow."
You can visit the 40 Below Joe Facebook page or website at www.40belowjoe.com for more information or to place an order.