Levee Lock: A Breakthrough in Barriers
Main Content
Levee Lock: A Breakthrough in Barriers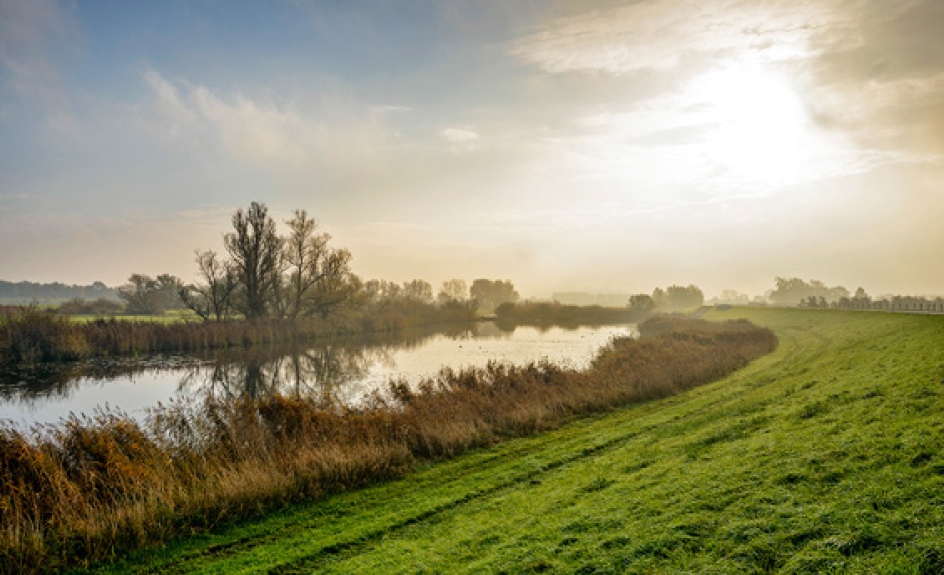 Co-founder and co-owner of Levee Lock Eric Gregg has worn many hats throughout his professional career.
As a graduate of SIUC in 1985 with a degree in Radio and Television and minor in Political Science, Gregg went on to become mayor of Harrisburg, IL, a soccer coach and County Commissioner.
After a varied career, Gregg started Levee Lock with his two partners, Gerald DeNeal and Jim Lancaster, to process a patent on the Levee Lock system and technology. The company specializes in the production and installation of steel-reinforced, concrete cut-off walls with a double lining of geotextile barrier created with ultimate respect to environmental impact and occupational safety. When discussing the aspects of the business, Gregg stressed the importance of doing your homework. "We do not want to go out and do this half-way," Gregg said.
Levee Lock currently operates on two different levels. Half of the business includes a new system for containing water or waste. The system uses smaller trenches, meaning smaller equipment is needed to dig them, which makes it faster to implement and more cost-effective. It can also be used to accommodate oil, coal ash, and agricultural waste. The other half of the business deals in creating construction panels for buildings to withstand severe conditions.
Levee Lock works with the manufacturer and producer to create a panel for construction that Gregg predicts to be groundbreaking in the industry. The panels, which are weather, fire, and seismic resistant, are built to last through anything nature brings. These create high strength load-bearing walls, floors, and roofs, requiring no formwork, beams, or columns. One example of how this can work is with retaining walls. "Any place that has a pollution problem - we can go in and seal that up," Gregg said.
Gregg also suggests that this system could be used as command centers and safe places in times of emergency. In 2012, the city of Harrisburg experienced a very violent tornado in which lives were lost, businesses destroyed and neighborhoods demolished. "As a mayor that went through a tornado, when a disaster strikes, you have to act quick," said Gregg.
When areas flood, Gregg speaks about how sandbags can be a hassle. They can be hard to place and a pain to clean up after. "We think we can go around the community, put our Levee Lock system in, then our walls, and have a four-foot wall protect from flooding," Gregg said.
Today, Levee Lock is at the proof of concept stage and getting ready to build buildings. "Between now and the end of the year everything is planned to take off," Gregg said. "We're at the tipping point."
When talking about the assistance SBDC has provided throughout the process of running a small business, "I can't speak enough about the advice that they've given us and the expertise," Gregg said. "My favorite part about working with SBDC has been the connections we've made - the connections are priceless. And they've been great with connecting us."
"They're a tremendous resource. This place provides an incredible opportunity for businesses like ours to network and to do it in a way that is cost-efficient. You talk about getting a bang for your buck, this is it."
Levee Lock can be found on Facebook. For more information, contact them at 701-866-6002 www.leveelock.com or visit their office located in Room 208 of the Dunn-Richmond Economic Development Center.